---
Marine Mammals in South Carolina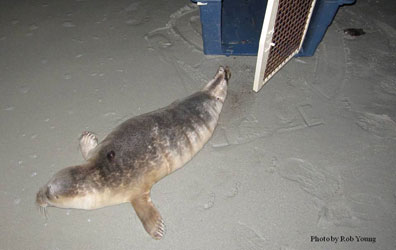 Marine mammals are air-breathing mammals like you and me (warm-blooded, live birth, hair or fur, produce milk), but they live in the marine environment for all or a significant portion of their life. Some highly aquatic mammals, like beavers, river otters, or hippos, are not classified as marine mammals because they live in fresh water. Marine mammals include cetaceans (whales and dolphins), pinnipeds (seals, sea lions, and walruses), sirenians (manatees and dugongs), sea otters, and polar bears, all of which are protected by the Marine Mammal Protection Act. This act makes it illegal to harass, feed or kill a marine mammal.
Cetaceans, seals, and manatees can all be found periodically in South Carolina waters. Bottlenose dolphins are our only common inshore marine mammal, but many species of cetaceans can be found offshore. Table 1 below provides links to additional information for species that have stranded in South Carolina. The vast majority of strandings in South Carolina are cetaceans. Cetaceans are divided into two groups, the toothed whales (odontocetes) and the baleen whales (mysticetes). Most of the great whales are baleen whales and have many baleen plates in their mouths instead of teeth, to filter out plankton and small schooling fish. Toothed whales (dolphins, for example) generally eat fish or squid and are known for their ability to echolocate. Echolocation uses sound and returning echoes to map out an animal's surroundings and identify prey. Bottlenose dolphins are social animals and also use sound to communicate. They are ecologically important as one of the top predators in our coastal waters.
Manatees and seals are seasonal visitors to South Carolina. Florida manatees expand their range north and west every summer and routinely move into South Carolina each year. Some manatees have been known to travel all the way to New England! Seals, on the other hand, are usually (but not always) winter visitors, but do not show up every year. Most seals that show up in South Carolina are harbor seals, and you will never see a sea lion here, as they are not found in the North Atlantic.
Stranding Statistics for South Carolina
Please see the table below, followed by links for more information by species
SC has an average of 52 marine mammal strandings per year (10 year average)
About 80% of all SC strandings are bottlenose dolphins
The 2nd and 3rd most common strandings are pygmy and dwarf sperm whales (>10%)
Remaining species are mainly members of the dolphin and beaked whale families, large whales (about one every two years), and the occasional seal
Most SC live strandings are single animals that are sick and dying. Historically, rehabilitation of such animals has been unsuccessful, so most animals must be euthanized.
About 25% of bottlenose dolphins strand with evidence of human interaction (entanglements, ingested plastics, etc.). This percentage is based on animals who were in good enough condition to clearly determine evidence for interaction.
Links to additional tables and figures summarizing marine mammal strandings in South Carolina:
Bottlenose dolphin (Tursiops truncatus)
Pygmy sperm whale (Kogia breviceps)
Dwarf sperm whale (Kogia sima)
Curvier's beaked whale (Ziphius cavirostris)
Pygmy killer whale (Feresa attenuata)
Melon-headed whale (Peponocephala electra)
Gervais' beaked whale (Mesoplodon europaeus)
Blainsville's beaked whale (Mesoplodon densirostris)
Humpback whale (Megaptera novaeangliae)
Short-finned pilot whale (Globicephala macrorhynchus)
Atlantic spotted dolphin (Stenella frontalis)
North Atlantic Right Whale (Eubalaena glacialis)
Pantropical spotted dolphin (Stenella attenuta)
Sperm whale (Physeter macrocephalus)
Striped dolphin (Stenella coeruleoalba)
Atlantic white-sided dolphin (Lagenorhynchus acutus)
Harbor seal (Phoca vitulina)
---